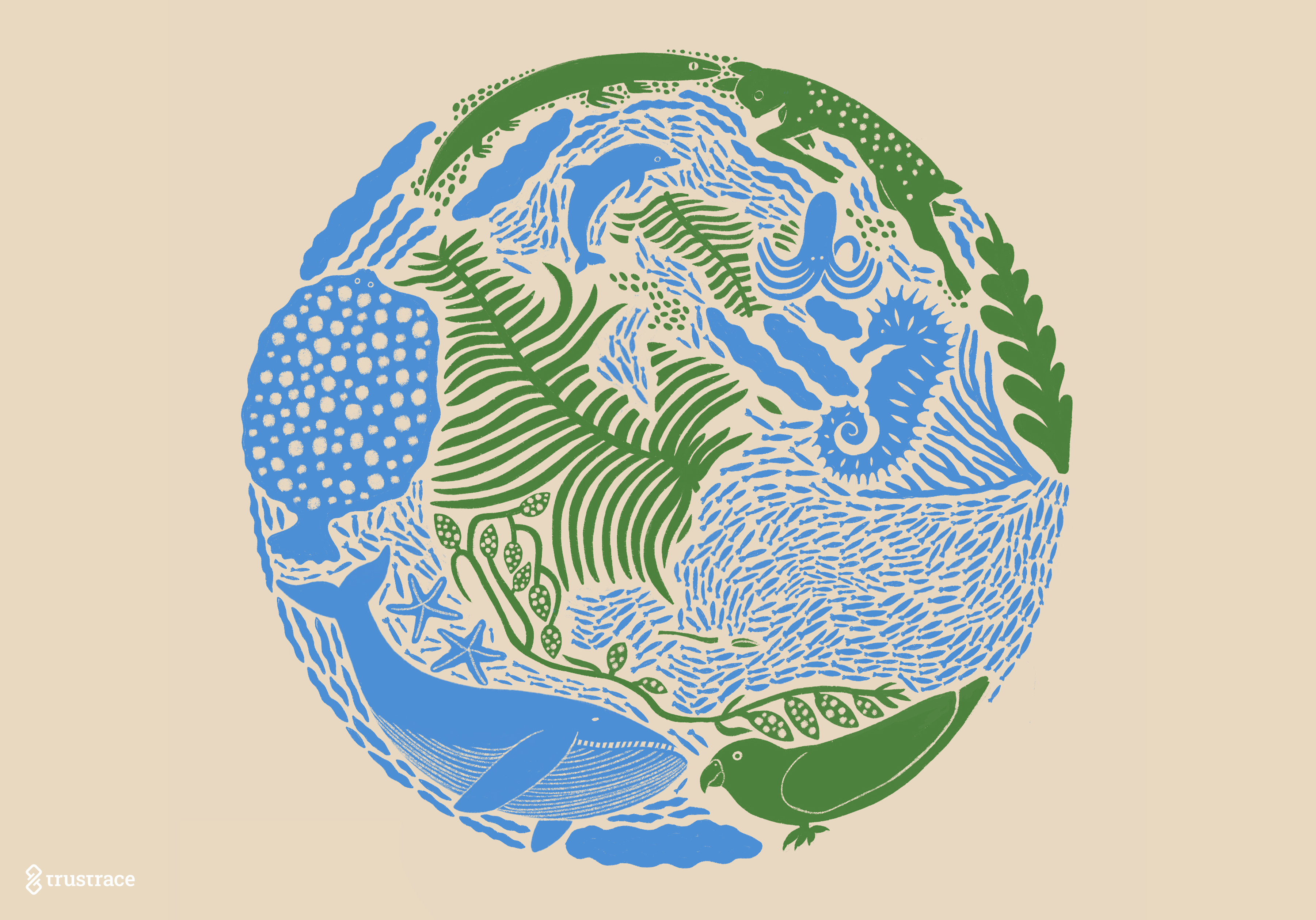 As 2022 comes to a close, we want to take this time to thank you for supporting TrusTrace and making it a successful year where we reached many milestones together with our valued brand and supplier customers.
Let's take a look at some TrusTrace highlights from 2022:
We launched the Traceability Playbook for Fashion Supply Chains
As many brands are starting to embark on their traceability journey, we published a playbook with case studies and expert insights to serve as a traceability guide for the fashion industry to get a sense of the scope and speed at which it is moving. Published together with our friends at Fashion For Good and Fashion Revolution, the Traceability Playbook was launched at the Global Fashion Summit 2022 in Copenhagen, and brought together great minds in the industry to discuss the future of fashion through traceability. First of its kind in the industry, the Traceability Playbook has 2000+ downloads and was featured in Vogue Business, Harper's Bazaar, Business of Fashion and more. Don't miss out – download it here!


Award-winning founders:
TrusTrace CEO and co-founder Shameek Ghosh won "Founder of the Year" at the 2022 Nordic Startup Awards — honoring the best and brightest from the Nordic startup community. While Madhava Venkatesh, TrusTrace CTO and co-founder, was recognized as the 2022 CTO of the Year Europe by the European Industrial Research Association. The award honors innovative and inspiring leaders creating ground-breaking solutions in their respective companies.
Signing our first customers in the US and Japan, and expanding further in Europe
There is a lot for us to celebrate this year, and especially welcoming 13 new enterprise-scale customers with headquarters in USA, Japan, France, Germany, Norway and Sweden. TrusTrace started the year with adidas, and has entered the US market with our first 6 customers headquartered there.



While most regulations are coming up in US and Europe, we are seeing that there is a global impact as fashion is globalized today. As we continue to develop products for traceability, we will build them with insights from some of the biggest consumer apparel brands as their choice technology partner to implement a scalable traceability program, and ensure supply chain traceability data is informing decision making for sustainability.




Running at enterprise scale: Averaging 2.5 million transactions a month in 2022
Earlier this year when we announced our progress since onboarding adidas onto TrusTrace, we hit a milestone in February 2022 of recording over 1 million data transactions for adidas on our platforms. This referred to the material lot transactions for their styles, and it's made possible because adidas has integrated their MLM system to TrusTrace. Since then, TrusTrace is averaging 2.5 million transactions a month for our clients, proving that it is possible to collect and analyse supply chain data across full portfolios, rather than merely doing pilot projects.


Reducing our environmental footprint: Our Coimbatore office is running on solar power


We installed a 10KVA solar panel system on top of our Coimbatore office. This enables us to run all our office operations on renewable power.



The system is also powered by a backup battery system that reserves electricity for less sunny days or evening working hours, and decreases our dependency on the grid.




Contributing to a better tomorrow in India
As our founding story begins in India, we are extra proud to have been highlighted by the influential Time of India as one of the selected companies with roots in India to leverage tech to benefit a greener society and culture. Check out the article.


Achieved ISO 27001 certification demonstrating best in class information security


Earlier this year we achieved ISO 27001 certification and it was only made possible with the organizations diligent effort to ensure personal data and information handled by TrusTrace is processed with robust information security practices and care. This was one of the many achievements from our tech organization, including maturing our development practices to continually deliver value to customers.




Launched Certified Material Compliance
In July 2022, the team at TrusTrace worked diligently and swiftly to launch a new product, Certified Material Compliance (CMC). Thisproduct came out of development together with adidas to help continuously process a large volume of traceability data at scale in order to substantiate product sustainability claims. Now customers using CMC can automate the linking of millions of traceability data points between styles and suppliers, and streamline the monitoring for regulatory compliance and manage risks. Learn more about CMC.


Welcomed 29 new colleagues and formed a Sustainability and Innovation team


2022 was a year of growth as we onboarded 29 new colleagues to join us. Spread across 2 headquarters, we made sure to book in several cross-cultural exchanges between Coimbatore and Stockholm and build bonds beyond the screen.





We also established the Sustainability and Innovation team, and their core focus has been on researching the regulations affecting fashion supply chains, advising and knowledge-sharing about traceability tech to fashion counsels, and participation in key communities such as the Sustainability Apparel Coalition, The Leather Working Group, The Swedish Institute for Standards and Forest Stewardship Council.




A new Chair to the TrusTrace board
In September, TrusTrace proudly announced the appointment of seasoned board member Jorgen Smidt to Chair of the Board. We are happy to have Jorgen join us as we continue to accelerate global expansion to provide a growing customer base with a reliable platform for supply chain traceability.



"I am incredibly impressed by the TrusTrace team and their journey to enable the fashion and retail industries to fundamentally change the way products are produced,"

Smidt said. "By providing automated, verified supply chain data to replace manual processes, TrusTrace delivers superior value to brands and suppliers. The platform enables brands to accelerate their sustainable transformation and comply with regulatory and consumer demands for transparency and data. It's a much-needed product at the perfect time, and I have no doubt that TrusTrace will be highly successful.

"


A hackathon to remember and make TrusTrace even better
As we continue to grow in India and Sweden, we aim to minimize the distance between teams and keep the collaboration close, as much as possible. We held our annual hackathon aka Ideation Week and teams worked digitally to ensure there was a mix between offices. The challenge? Find innovative hacks to reduce friction between teams from different parts of the world, and streamline collaboration between colleagues, customers or network of suppliers. Some of the ideas were implemented immediately to address customer concerns, while others could be developed in 2023. Stay tuned!


Thank you for again for your support and helping us make 2022 a successful year. We look forward to recharging and restoring ourselves this holiday session, and continue to accelerate sustainable transformation in 2023!

Could you picture yourself at part of the TrusTrace team? Check out our careers page for openings.

Subscribe
Sign up with your email address to receive news and updates.
By submitting this newsletter request, I consent to TrusTrace sending me regular website updates and occasional marketing e-mails.
I acknowledge that my contact information will be processed according to TrusTrace's Privacy Policy.