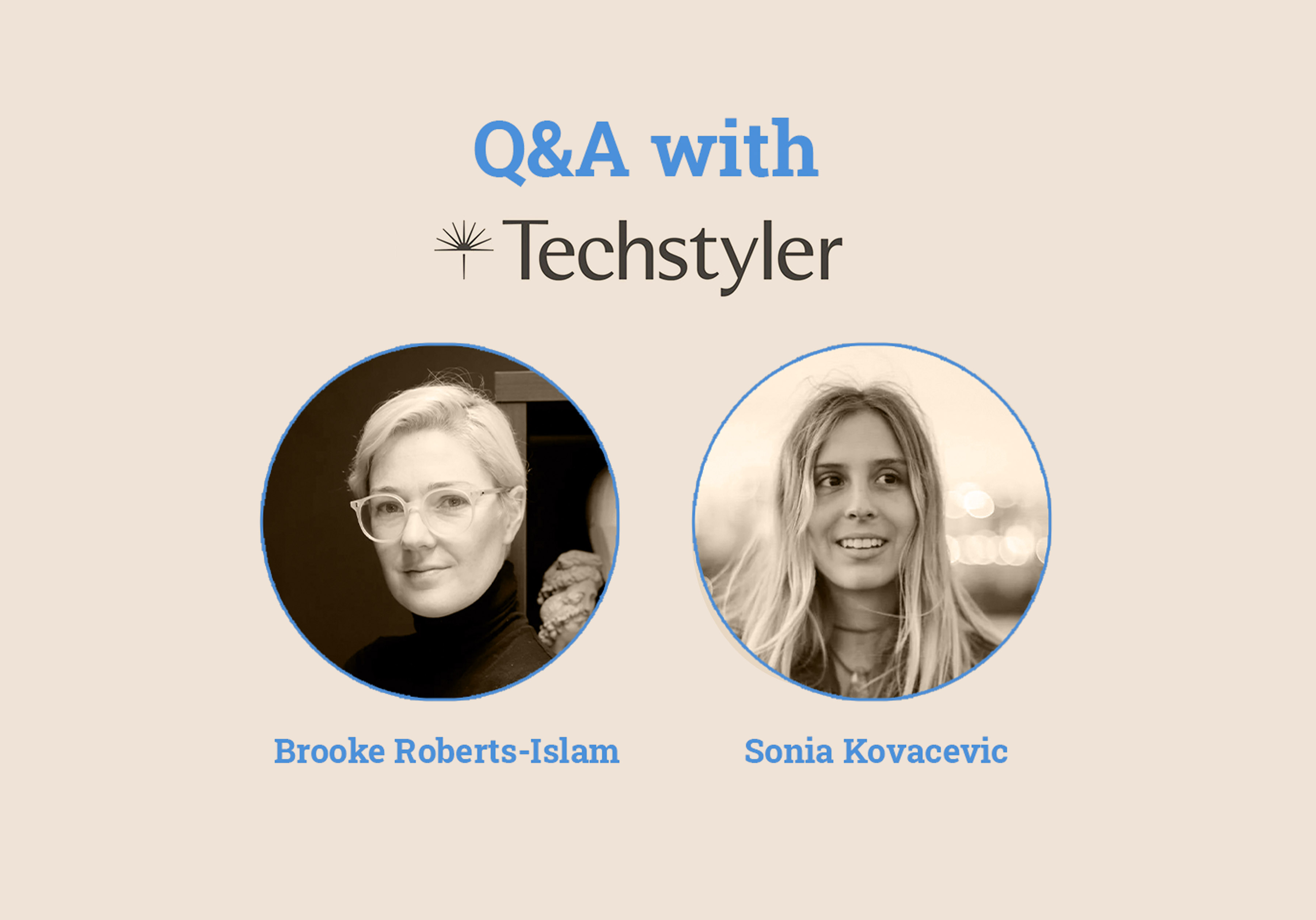 The fashion media plays an important role in the future of sustainability, but rigorous, unbiased reporting can be hard to find. Enter Techstyler, a recently launched publication from industry experts Brooke Roberts-Islam and Sonia Kovacevic, which is taking on fashion, textiles and climate reporting through a new lens. We spoke to the founders about the origins, ambitions and collaborators (including TrusTrace founder Shameek Ghosh) of Techstyler.
Hi Brooke and Sonia, thank you for joining us to talk about Techstyler. Can you briefly introduce yourselves and the origin of the new platform?
Techstyler is an advisory and publisher focused on sustainability and innovation. We provide intelligence and thought leadership to guide and contextualise sustainability decision-making in the fashion and textile industries.
We met during a 6-month consulting stint for a leading brand in the sustainability space. With varied yet complementary skill sets and a curiosity and tenacity to change the current narrative in fashion, we identified a gap in the market as we bonded over our own struggle to find consistent, high-quality sustainability-related content - so we decided to create it ourselves.
We both have unconventional backgrounds with non-linear career paths: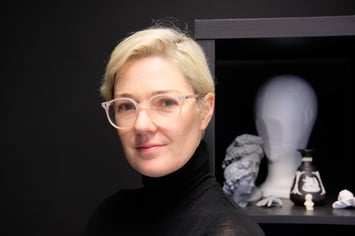 Brooke's background is in science - her career began as a diagnostic radiographer in the NHS, before she returned to university to study fashion design. After graduating she launched her own knitwear brand, stocked in Browns, which explored the creative potential between medical imaging and digital knitting technologies. Brooke worked in factories in Italy, Portugal and England to design and develop technical knitwear using cutting-edge industrial knitting technology for her own brand, and also as a consultant for LVMH.
In 2013, she was invited to talk at TEDMED about the intersection of science, technology and fashion, and was soon after approached by the Huffington Post to write a column on these topics. She has been writing ever since, launching Techstyler in 2015 to explore the influence of science and technology on fashion, and since 2018 as a senior contributor for Forbes. In 2021 she wrote the book Enabling a Better Future reporting on the past 20 years of sustainability initiatives in fashion and textiles, commissioned by bluesign. In August 2022 she launched Techstyler (2.0) with co-founder Sonia Kovacevic.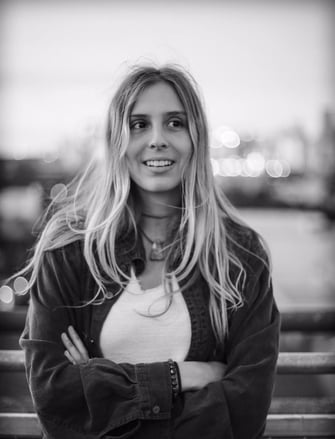 Sonia is an honours graduate in media and law and is currently authoring a report on climate risk and its financial implications for the fashion industry, in partnership with the Commonwealth Climate and Law Initiative. Her professional experience over the past decade spans strategy, operations, communications and content production for brands, publishers, creative agencies and NGOs; some of which include PANGAIA, Mission Magazine, and the US Coalition on Sustainability.
In 2022, Sonia co-founded Techstyler (2.0) drawing on her ongoing interest in environmental and international affairs and her climate-related legal research experience (including projects in Borneo and Vanuatu). Her expertise informs and guides Techstyler's readership on regulatory changes, evolving climate risks and the financial and social implications for the fashion industry.
Why is now the right moment to relaunch the platform? What gap will it fill in the world of sustainable fashion media?
It's our view that current sustainability reporting does not adequately quantify, evaluate or convey environmental, social and economic opportunities and risks. Instead, marketing-led narratives dominate the discourse, creating an illusion of progress, while in reality, industry climate targets are being overshot and impact reduction opportunities from lesser-reported solutions are being missed. The financial cost of this reporting gap is rising due to rising supply chain risks and changing regulations.
Our mission is to deliver the most trusted and valuable sustainability insights for the fashion and textile industries to provide our readers with the right information in the right context. The aim is to effectively channel resources, adopt strategies and solutions in line with climate targets and mitigate supply chain and other ESG risks.
It's been exciting (and validating) to see members join Techstyler from across the supply chain - from investors to materials and tech innovators and brands. Our readers have fed back to us that Techstyler is providing them with accessible yet in-depth sustainability intel that they haven't been able to find anywhere else. One reader said she is performing better professionally, thanks to the knowledge and clarity she gained from our Intel, which is the best feedback we could hope for!
What topics and issues are you covering and how will you approach them?
We are a little bit like detectives, working to unearth, understand and contextualise the topics we choose to highlight, communicating them in an accessible way that is supported by evidence. In addition to sharing the impact reduction potential of various solutions, we aim to write in a way that conveys critical thinking. We want to arm industry stakeholders with the knowledge and insight to cut through sustainability noise and make sound decisions.
We prioritise the topics covered based on the intel that will help our members accelerate sustainability, remove blindspots and understand industry progress as a whole. Our main focus areas at the moment are materials, investment and climate risk/opportunities.
In what way are TrusTrace and our co-founder Shameek supporting the platform?
Shameek and the team are tapped into the traceability needs of industry stakeholders across the supply chain. Their capture, analysis and interpretation of data is, in some ways, the untold story of the environmental and social impacts happening on the ground - way back to Tiers 4 and 5. In responding to rising obligations for brands to know their impacts beyond Tier 1, TrusTrace's work is proof that traceability is a cornerstone of risk mitigation and of compliance with rising regulations.
At Techstyler we recognise that the capture and proper statistical analysis of supply chain data is the foundation for building a cleaner industry. Without accurate measurement of what is happening, how can we possibly define the way forward and the best solutions to get us there?
Techstyler must work with TrusTrace and others with a traceability and transparency mandate, to support the flow of evidence that substantiates solid business decision-making in line with climate targets. And we believe that flow must start from the source, where materials are grown or extracted.
What are your ambitions for Techstyler in the coming years?
Our goal is to create an ecosystem of influence where we can facilitate and guide action through multiple mediums. We are currently focused on our membership platform (Techstyler's 'Intel Database'), our client advisory services and speaking engagements at industry events. We have exciting launches scheduled for 2023 that we can't share yet, but if you join Techstyler here, follow us on social media and subscribe to our monthly newsletter: The Download you'll be the first to know!
To discover Techstyler, follow the links below.
Subscribe
Sign up with your email address to receive news and updates.
By submitting this newsletter request, I consent to TrusTrace sending me regular website updates and occasional marketing e-mails.
I acknowledge that my contact information will be processed according to TrusTrace's Privacy Policy.