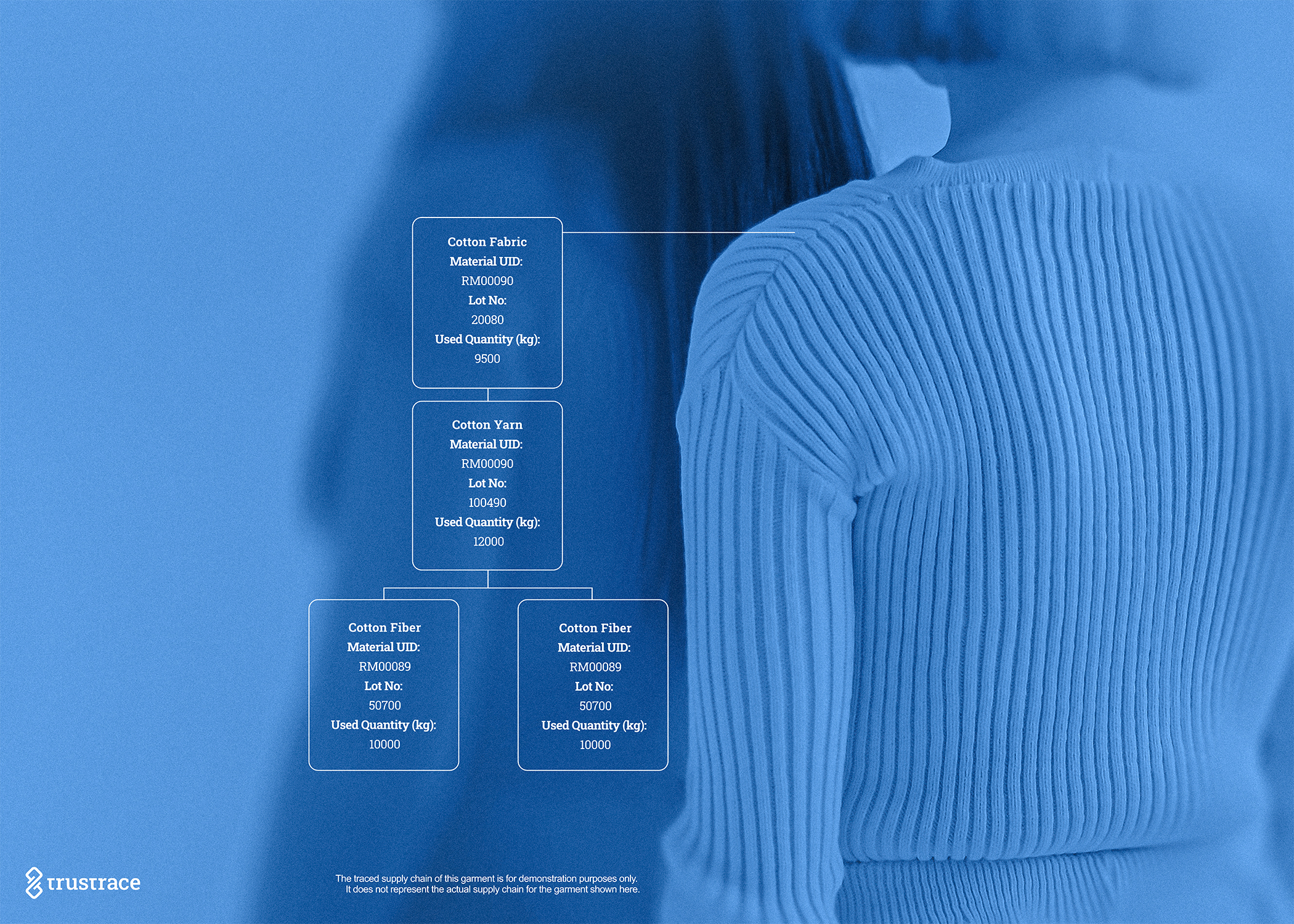 Image: sweater with evidence of the garment material chain of custody shown. This is the same information provided by TrusTrace's Certified Material Compliance product.
Our latest product launch, Certified Material Compliance, extends TrusTrace's commitment to transforming the fashion industry's supply chains through material traceability.
---
Driven by increasing consumer demand and incoming regulations, the fashion industry is facing growing pressure to prove sustainability claims on certified materials within its product offerings. Adopting more sustainable options like recycled, organic, and branded materials is a core part of any brand's sustainability transformation, but this can bring about a unique set of challenges.
A Case for Going Beyond Supply Chain Mapping
Supplier Mapping will only get you so far in your sustainability journey — we encourage brands to be ambitious and consider supplier mapping as the first, not the only, step in your sustainability journey. While mapping your supply chain is essential in order to move to the next level of traceability, it should be done in conjunction with product traceability to understand your supply chains on a deeper level.
Learn more about the different levels of traceability in the Traceability Playbook.
The additional administrative work involved can add up to hundreds of operational hours spent tracking certificates and trying to validate the integrity of material claims. Our research finds that the average brand expects to process 500,000 supply chain data points for sustainable materials between tier one and the finished good PO each year. Done manually, this would take one person almost 20 years to complete. Data collection, management, and analysis is a crucial yet complex task for a sustainable fashion business, and we recognise that brands need support to achieve this.
To help brands meet their sustainability targets and back up the claims they make about the contents of their products, we've developed a digital material traceability product called Certified Material Compliance (CMC). Using the Product Segregation chain of custody model, the product validates evidence and proves the integrity of certified material content. In other words, you can be 100% sure that your garment is made from 60% certified materials.
Understanding the Product Segregation Chain of Custody Model
In fashion supply chains, Product Segregation and Mass Balance are two frequently used Chain of Custody models. Product Segregation means that the certified raw material is physically separated from non-certified materials throughout the whole supply chain, which makes this a more accurate approach than Mass Balance, where the certified and non-certified materials can be mixed along the supply chain.
We're in the business of simplifying and streamlining sustainability. Our CMC solution is automated and AI-driven, so you can save time on data entry and transcribing transaction certificates. If you're missing transaction certificates deeper in your supply chain, CMC can assist with digital traceability to complete the chain of custody from materials to finished goods.

How Does CMC Work?
Upload direct supplier data:

Active traceability begins with bringing your direct suppliers online to contribute their data

Streamline certificate collection:

Suppliers upload transaction certificates onto TrusTrace to be linked to POs. These are digitally scanned onto TrusTrace to complete the Chain of Custody.

Link Material Data to POs:

TrusTrace automates the consolidation of all product and material data to the respective PO to let you know what's fulfilled and compliant.

Download the Data for Declarations:

Get a digital record with the Chain of Custody of all evidence including transaction certificates pertaining to specific POs.
TrusTrace CMC x adidas
Leading brand adidas was one of the first fashion companies to adopt the CMC product, after providing valuable input into its development. Within the first three months of using TrusTrace, adidas documented one million transactions covering 10,000 materials and styles across 500 facilities, proving the scalability potential of this new solution.
In working with adidas, TrusTrace has been able to support the company's ambitions to move toward working with 100% recycled polyester by 2024, and implementing sustainability-centric technology, materials, design and manufacturing across 90% of the products by 2025.
Smarter and Faster Tracing
Traceability doesn't have to be a manual, complicated, and time-draining task. By automating the collection of data, you can collect all the right evidence in the right place, back up the claims you make about certified material content, and scale the sustainable transformation of your business.
Are you ready to trace certified material supply chains? Get in touch with the TrusTrace team and learn how CMC can support your brand's sustainability transformation starting with traceability.
Subscribe to the TrusTrace Knowledge Hub
Sign up with your email address to receive news and updates.
By submitting this newsletter request, I consent to TrusTrace sending me regular website updates and occasional marketing e-mails.
I acknowledge that my contact information will be processed according to TrusTrace's Privacy Policy.