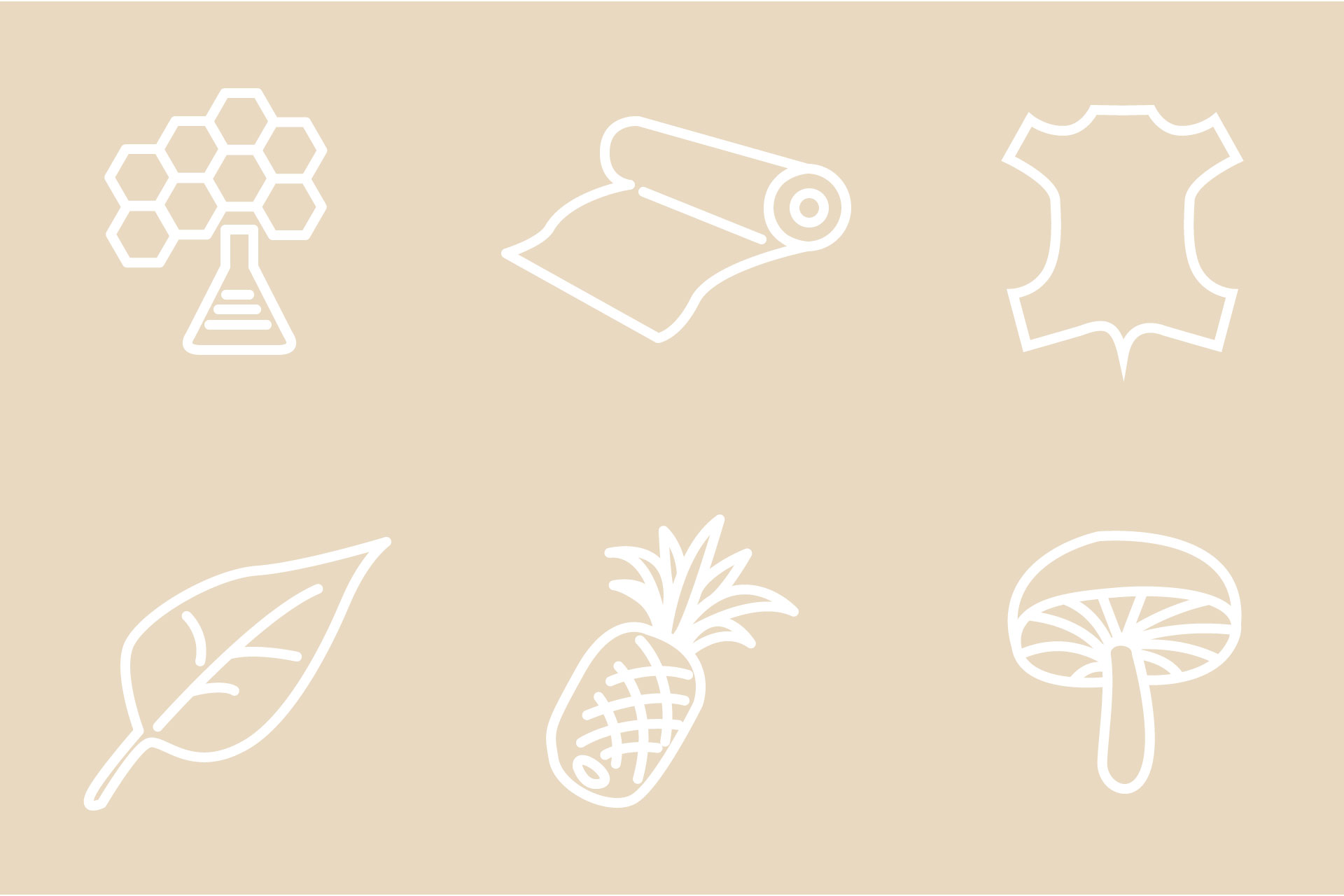 The textiles market is in a state of flux, as consumer demand, innovations, supply chain disruptions and the climate crisis drive the sector forward rapidly. Below, read 3 textile trends to consider.
---
Next-Gen Materials
According to the Material Innovation Initiative (MII), next-gen materials are "livestock-free direct replacements for conventional animal-based leather, silk, down, fur, wool, and exotic skins...[that] use a variety of biomimicry approaches to replicate the aesthetics and performance of their animal-based counterparts." It's a booming market.
The MII surveyed 40 leading fashion brands and found that 38 of them were actively searching for next-gen material alternatives. "There has been an increase in the number of partnerships between brands and next-gen material companies," explains Nicole Rawlings, co- founder and chief executive of MII. "Our Brand Engagement Report, published in February 2022, highlights over 110 partnerships between brands and next-gen material companies. We are also seeing more financial investment by brands in material companies and even a handful developing materials in-house."
Since 2014, 42 next-gen material companies have been founded, totalling 74 around the world in early 2021. Next-gen materials come from a wide variety of sources, from the fungal species mycelium (Mylo Unleather by Bolt Threads) to grape skins (Vegea), pineapple leaves (Piñatex® by Ananas Anam), algae (Bloom by Algix) and many more. There are even companies bioengineering animal cells to create lab-grown leathers (Modern Meadow and VitroLabs), furs (FUROIDTM)️, as well as turning carbon emissions into carbon-negative textiles (Rubi Laboratories). Leather alternatives are by far the most common category of next-gen materials, says Rawlings. "In April 2021, there were around 49 companies developing next-gen leather, increasing to 67 by the end of 2021, while in April 2021, only nine companies were focused on biomimicry of silk, seven on wool, six on down, five on fur, and one on exotic skins."
While providing a glimpse into the future of materials, many innovative materials are not perfect replacements for their traditional counterparts. For example, many plant-based leathers use petroleum-based resins and chemical binders, making them non-biodegradable. In addition, few have reached a commercial scale of production, which prevents them from taking a larger market share.
"The current challenge in the industry is lack of supply of next-gen materials, not lack of demand," says Rawlings. "In order for the fashion industry to use more sustainable and animal-free materials, those materials need to meet the industry's performance, aesthetic, price, and volume requirements." MII expects that next-gen materials will make up 3% ($2.2 billion) of the materials market by 2026.
P
lasti
c
-
f
ree
F
as
h
i
o
n
Since the mid-1990s, synthetic fibers have dominated the textile market. In 2020, polyester alone made up 52% of the market. Synthetic fibers, as well as the plastic used for packaging and transporting clothing, are predominantly derived from fossil fuels, which consequently leach chemicals and shed microplastics into the environment.
It's estimated that there are 14 million tons of plastics on the ocean floor, and without divestment by 2050, there will be more plastic in the ocean than fish (by weight). According to the 2021 FTI, although just 25% of brands publish a measurable, time-bound target to reduce the usage of fossil fuel-derived textiles, even less (18%) publish progress on this.
In an effort to shift the fashion industry away from its reliance on fossil-fuel plastic, industry groups have proposed taxing the production of virgin plastics. This was one of the key recommendations to come out of Changing Markets' 2021 report Synthetics Anonymous (which also suggested disincentivizing the use of plastic waste like water bottles as a feedstock for polyester production), as well as the 2019 Fixing Fashion report in the UK. While the recommendations that were laid out by the Fixing Fashion committee were rejected, criticism of the oil and gas industry is increasing, putting pressure on all businesses to find plastic-free textile alternatives.
Regenerative Agriculture and Biodiversity
Loss of biodiversity is inherently linked to the climate crisis.
Toxic chemicals, monoculture farming, water contamination, and deforestation all damage the biodiversity of the natural world and erode soil, which is crucial for absorbing carbon and filtering water. In 2014, the Food and Agriculture Organization of the United Nations predicted that at the current rate of destruction, there could be only 60 years worth of topsoil left on earth. This is a huge concern for the fashion industry, which relies on agriculture for key materials like leather, cotton, wood pulp (for man-made cellulosic fibers) and wool.
Brands must track and audit their supply chains in order to understand where the biodiversity risks are, and how they can source natural materials in a way that gives back to the planet, rather than just extracting from it. Brands are well aware of the urgency: 59% have made public commitments to address biodiversity risk, but only 8% of companies have an explicit biodiversity strategy, according to the 2021 Biodiversity Report by Textile Exchange. Industry initiatives like the Fashion Pact, founded in 2019 with 3 pillars — climate, oceans, and biodiversity — are focused on agricultural investments. By 2025, the group aims to support zero deforestation and sustainable forest management.
To read more insights from the TrusTrace Traceability Playbook for Fashion Supply Chains, click here. To read our Glossary of Traceability Terms, click here.
Subscribe
Sign up with your email address to receive news and updates.
By submitting this newsletter request, I consent to TrusTrace sending me regular website updates and occasional marketing e-mails.
I acknowledge that my contact information will be processed according to TrusTrace's Privacy Policy.