Renfro Brands Taps TrusTrace as its Traceability Provider to Accelerate Sustainable Transformation
By leveraging the TrusTrace platform, Renfro Brands continues to facilitate compliance with current and future regulations to further drive positive impact in its supply chain.
STOCKHOLM, January 18, 2023 — TrusTrace, a global SaaS company with a market-leading platform for product traceability and supply chain transparency in fashion and retail, today announced that Renfro Brands, a legacy designer and manufacturer of socks and legwear, has selected the TrusTrace platform to support its traceability efforts.
"Renfro Brands is committed to making a positive impact on the world and sees supply chain traceability as an important factor in achieving their goals," TrusTrace CEO and Co-Founder Shameek Ghosh said. "Using the TrusTrace platform, Renfro Brands will be able to centralize its current supply chain data for continued compliance with laws such as the UFLPA, as well as measure and document progress towards its sustainability goals."
Renfro Brands has a longstanding commitment to both sustainability and community impact, brought to action through its Project Footprint program. Thus far, 100% of Renfro Brands' suppliers have achieved at least one sustainable certification, including OEKO-TEX, GRS and ISO. Renfro Brands aims to use sustainable yarns and materials in 100% of the products it produces by 2030. Currently, 30% of its packaging components are recyclable or reusable – with the goal of reaching 100% by 2030.
"The TrusTrace platform is a pivotal tool that will help people globally achieve a life well-lived, by protecting our planet now and for future generations," said Jonah Buelin, SVP Supply Chain of Renfro Brands. "Achieving our sustainability goals is a top priority for us at Renfro Brands. TrusTrace will standardize how our supply chain mapping and material tracing data is captured, digitized and shared."
TrusTrace is a leader in fashion supply chain traceability, providing 40+ global fashion and retail brands with verified data in real-time, as materials and finished goods move through the supply chain. Through its open architecture, the TrusTrace platform integrates seamlessly with retailer, manufacturer and supplier systems, as well as other third-parties, such as certification agencies, lifecycle datasets and other sustainability solution providers.
For more information, visit www.trustrace.com. To learn more about Renfro Brands' Project Footprint visit www.renfro.com/project-footprint
For hi-res photography, scroll to the end of this press release.
About Renfro Brands
Renfro Brands is a leading designer, manufacturer, and marketer of quality socks and legwear products. Founded in 1921, the company pioneered some of the earliest innovations in sock manufacturing, from standardizing sock sizes to eliminating toe seams. Over the course of a century, Renfro's operation of 25 employees has grown to become an industry leader with over 2,000 employees worldwide. Today, Renfro Brands is a recognized expert and brand steward of over 20 globally loved sock brands, including Polo, Merrell, Dr. Scholl's, New Balance and HOTSOX. The company continues to breathe new life into the industry with the launch of Loops & Wales, an online destination for discovering, styling, and buying socks. Discover how Renfro Brands is leading the sock industry at www.renfro.com.
About TrusTrace
Founded in 2016, TrusTrace offers a market-leading platform for supply chain traceability at scale within fashion and retail, which has quickly become the foundation for some of the most ambitious sustainability programs in the world. It is built on artificial intelligence, blockchain, software bots, and IoT technologies in an open architecture that integrates seamlessly with manufacturer, retailer, and supplier's existing systems, as well as those of third-party certification agencies and other sustainability solution providers. The company is headquartered in Stockholm, Sweden, with offices in India. Please visit www.trustrace.com to learn more.
Media Contacts:
For TrusTrace
For Renfro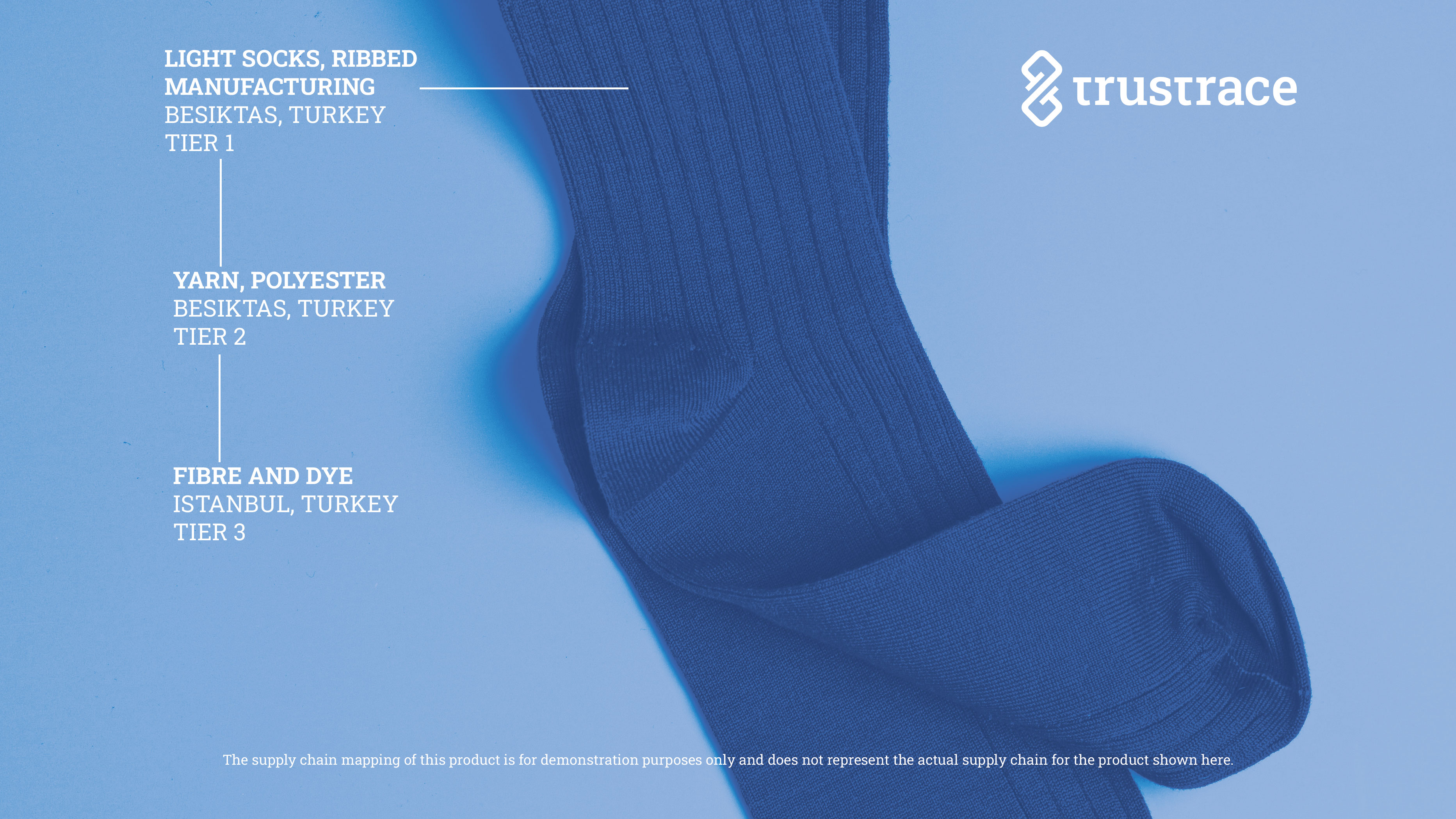 Renfro Brands and TrusTrace, Press image (January 18, 2023)